Accuracy and Changes
Any and all facts, information and descriptions contained in this brochure are believed to be accurate at the time of printing. Itineraries, ships, product offers, terms and any other information provided herein are subject to change without notice. Completeness or accuracy is not guaranteed and the most up-to-date information can be obtained on our website.
Responsibility
Although considerable care has been taken in preparing the information contained in this brochure, it is provided on an "as is" basis, without warranty of any kind either express or implied.
Available Only Where Permitted by Law
The products and services described in this brochure and the GLP website are only offered in jurisdictions where they may be legally offered for sale.
Prices
Every effort has been made to ensure prices indicated are accurate. GLP reserves the right to correct any errors or omissions made on any printed or electronic material including this brochure.
All prices shown are per person in Canadian Dollars based on double occupancy inclusive of all taxes and surcharges known as of the date of printing for a specific commencement date and cabin category as noted below each itinerary table. Prices for other departure dates and cabin categories are available from our website or by calling our office. No price indicated herein shall be considered final or definitive and the final price for any tour program will be indicated on the formal quotation or invoice.
Booking & Terms
Please find booking terms and conditions through the links below:
Limitation of Liability
GLP acts solely as agent between the travel agent and/or passenger and the supplier(s) providing services as described in the brochure. GLP assumes no responsibility for any claims, damages or expenses arising from situations beyond our control.
All cruises and transportation booked are subject to the Conditions of Carriage of the relevant carrier. Full Conditions of Carriage for each carrier are available on our website or by contacting our office.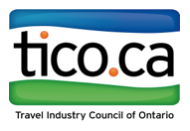 Travel Industry Registration
"GLP" as defined above is GLP Worldwide, a division of 1394207 Ontario Inc. and is licensed under the Ontario Travel Industry Act (TICO), Registration Nos. 50008899 and 50014865.
© GLP WORLDWIDE 2016 | TICO WHOLESALE REG. 50008899