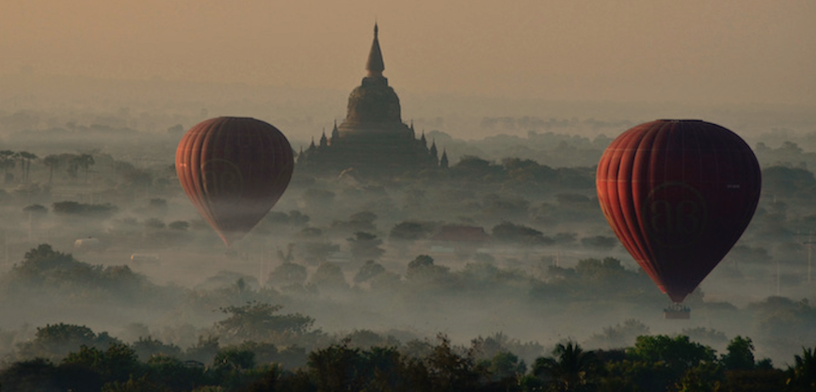 Are you interested in exploring the rich history and diverse culture of Myanmar but don't know where to start? When it comes to things you need to experience, we've got you covered!
1. Placing a gold leaf on Shwedagon Pagoda
Burmese tradition has all citizens buying gold leaf which is hand pounded over a thousand times and then affixing it to a pagoda out of respect for the Buddha. The Shwedagon Pagoda in Yangon is the largest in the country and gleams a brilliant gold.
2. Alms to the monks
Get up in the early morning to witness a long line of orange-clad monks walk by collecting donations of food from their followers.
3. Sunrise over Bagan
Climb a temple and gaze at the horizon as thousands of ancient pagodas and temples are illuminated by the rising sun. If you're willing to splurge, experience this incredible event in a hot-air balloon.
4. Visit a local school
One of the most gratifying moments is to see the smiling faces of young Burmese children in their very simple school buildings. If you're lucky they will sing a familiar tune which will make anyone's eyelids go moist.
5. See the fisherman of Inle Lake
In an amazing feat of balance, these men stand on one leg while paddling their canoe with the other, casting a fish net at the same time.
6. Walk up Mandalay Hill
Not for the faint of heart, the xxx steps up to the glistening, colourful shrine at the top of the hill offers spectacular views over the city which is dotted with temples and pagodas. Important to note: You must go barefoot because the entire walk is a religious site.
7. Smoke a Burmese cigar
The Burmese have an adoration for their cigars as much as the Cubans do. Big note of difference, the local variety are very smooth, so much so that you can actually inhale them. Not that we advocate smoking, but at less than 5 cents each (at the non-tourist spots), it's worth a try.
Now you are ready and prepared to check at least 7 items off of your bucket list.
Enjoy your travels!
From the GLP team