Thailand is renowned for its beautiful beaches, lush landscapes, and cultural wonders; but travellers come from all over the globe to also experience the hot, sweet, sour, salty, and bitter cuisine that is Thailand. Food stalls line the streets–vibrant fresh fruit on display for the taking; riverboats sail along the river filled with colourful desserts carefully laid out on blue blossoms and green pandanus leaves. In the country's busy cities, find world-class restaurants serving traditional and contemporary Thai food alongside roadside dining. Planning a trip to Thailand? Here's how to best map out your culinary adventure.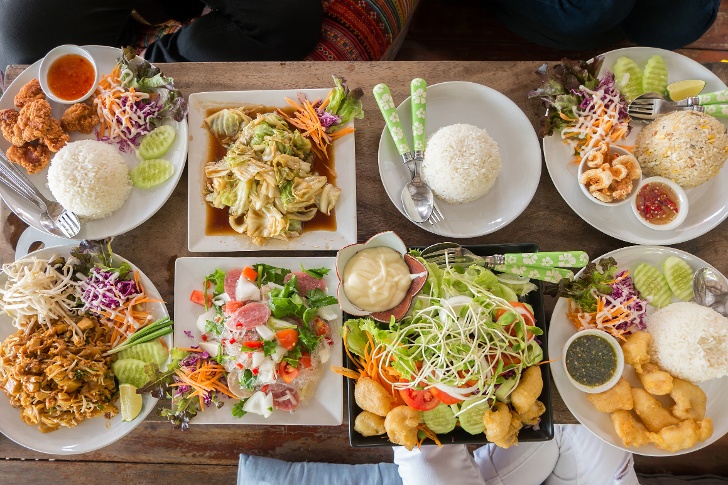 What to order at a restaurant in Thailand:
Travelling to Thailand, but not sure what dishes you should try? Whether you're embarking on a culinary adventure in Thailand or just need a simple road map for what to order while dining out, explore the best Thai dishes this country has to offer.
Laap (also called laab or larb): laap is a salad made with ground meat, mint, lime juice, fish sauce, and minced chilies. It is the unofficial national dish of Laos but is popular in the north-eastern Isan region of Thailand where there is a large population of Lao residents. Laap is usually served with toasted rice. This dish is generally offered with chicken, beef, or pork.
Khao Soi Ga: Khao Soi is a popular dish served in northern Thailand. This Burmese-influenced coconut curry soup is typically filled with chicken and fried noodles, but can also be ordered with beef, seafood, pork, or vegetarian.
Khao Neeo Mamuang: this sweet treat is made with fresh mango, coconut milk, and sticky rice. Mango sticky rice can be found at nearly every restaurant, but if you're in a hurry, you can also order it at street food stalls.
Mah Hor: known as "galloping horses," this small snack is made with sliced pineapple–mandarin oranges and pomelo are also used–topped with ground chicken, pork, and peanuts. It's the perfect combination of sweet and salty.
Gai Med Ma Moung: Thailand is home to some of the best cashews in the world. If it's on the menu, be sure to order the cashew chicken – an authentic Thai stir fry of chicken, cashews, onion and chili peppers. Best served with steamed rice.
Khao Mok Gai: this is a Bangkok favourite. Inspired by Indian flavours, this dish is made with curry-spiced rice and herb chicken. Find it in most restaurants, or on the streets throughout Thailand.
Pad See Ew: you can't leave Thailand without trying the Chinese-inspired noodle dish found nearly everywhere in Thailand. Rice noodles are pan fried with pork, Chinese broccoli, and soy sauce. Don't forget the garlic chili sauce!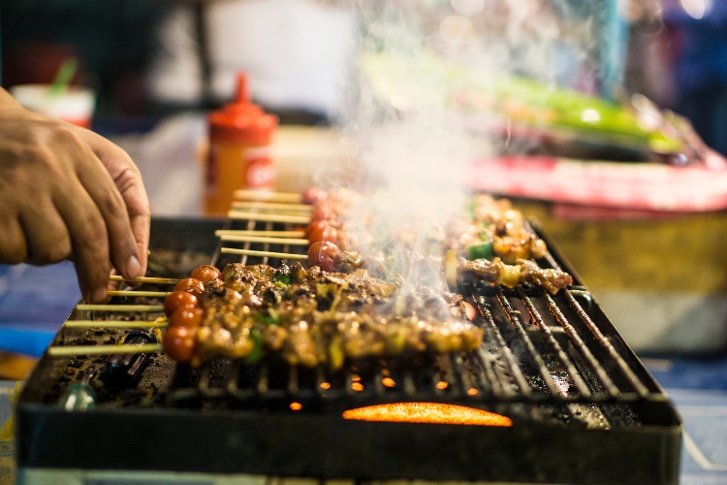 Best street food eats in Thailand:
Navigating the rows of street food stalls in Thailand can be overwhelming – especially when it comes to making a selection from hundreds of local Thai offerings. Bangkok, which is said to have the best street food in the world, serves everything from fresh-cut fruit and juices to skewers, soups, and noodle dishes. Looking to get your hands on must-have local eats? Here are dishes you can't miss out on while visiting Thailand.
Som Tam: if you don't already love this salad made with green (unripe) papaya, roasted peanuts, and a palm sugar dressing, you will. This is a Thai favourite that should not be missed – find it nearly everywhere in Thailand.
Khao Phat: this is a Thai staple, a fried rice dish made with different variations (with a fried egg, shrimp, or basil chicken). Head to a local market for Khao op sapparot: pineapple fried rice served in a hollowed out pineapple.
Sa-Te (or satay): grilled skewers – usually chicken – served with peanut sauce. These street food snacks are great for on-the-go.
Kai Jeow: a pork omelet made with fish sauce, egg, green onions, herbs and shallots. This simple dish is a street food staple found nearly everywhere.
Khanom Bueang: crispy crepes made from rice flour. A popular street food in Thailand, these taco-shaped desserts are stuffed with meringue and candied duck egg yolk.
Khao Man Gai: this is one of the most popular street food dishes in Thailand. Simple and flavourful, this is the Thai version of Hainanese dish made with chicken, rice, and cucumber.
Geng Kheaw Wan Gai: a classic Thai dish – known as green curry with chicken – is colourful, packed with flavour, and a must-have if you're cruising the streets of Bangkok.
Gooay Teeo Kua Gai: rice noodles stir fried in garlic oil with egg, chicken and squid. This is a popular dish in Bangkok, and can often be found outside the city.
Mee Krob: crispy stir fried noodles mixed with wontons and usually found in Bangkok.
Roti Gulay: served at street vendors across Thailand, Roti Gulay is a sweet pancake made with bananas.
Kuay Teow Moo Daeng: made with char siu (red pork) and noodles, this soup is a popular street food in Bangkok. This dish, however, is exclusive to the street food scene – you won't find this one in a restaurant!
Pad Fuktong Sai Kai: stir-fried pumpkin with egg may not sound too enticing, but this dish is packed with flavour. Find it at night markets – like the one near Khao San Road – or at street food stalls.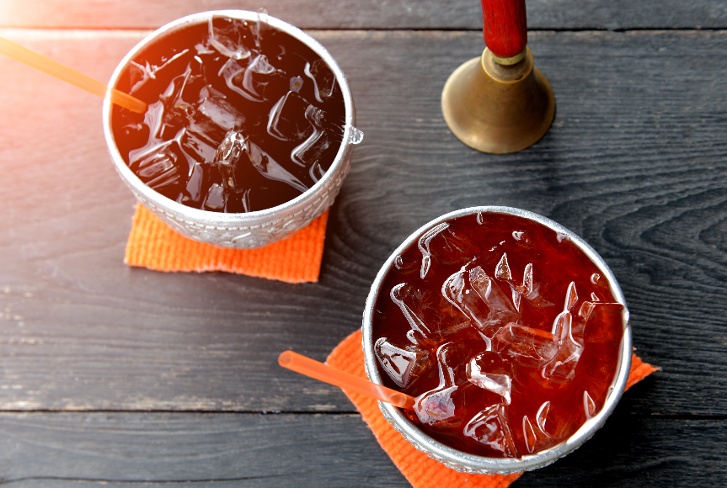 Thai beverages for cooling down:
Cool yourself down in the heat of Thailand with fresh juices and exotic local drinks. From sugarcane sap to Thai iced tea, discover the fresh flavours and vibrant drinks that makes Thailand heat...well, forgettable.
Nam Bai Toey: pandan "water" is a traditional Thai drink made from pandanus leaves. It's green, refreshing, and a must-try – especially if you're cruising the busy streets of Bangkok.
Nam Makham: tangy and sweet, this drink is made from tamarind – the reason for its bright colour – and is a popular drink for cooling down on the beaches in Thailand or after a day of sea kayaking.
Namtan Sot: pressed from sugarcane, this beverage is widely consumed in Thailand. If you love sweet, this is for you.
Cha Yen: Thai iced tea is a popular drink in Thailand – a mix of tea and sweetened condensed milk usually served over ice. You can also find it in a hot version.
Kafae Boran: like Thai iced tea, Kafae Boran is a traditional Thai coffee served on ice with sweetened condensed milk. Travellers, beware! Thai coffee is strong – perfect for a midday pick-me-up.
Nam Ya Uthai: water with a drop of "ya u-thai," a medicinal herb with cardio tonic and blood tonic property
Fresh squeezed juice: you can find fresh guava juice, fresh watermelon juice, and other fresh pressed juices nearly anywhere in Thailand.
Discovering the incredible flavours of Thai cuisine is easy in a country that is bursting with culinary heritage and time-honoured traditions. Want to bring the beauty of Thai food home with you? At the Blue Elephant Cooking School, learn how to cook traditional Thai cuisine using herbs, spices, and fresh ingredients from local markets. Does this sound like something you would love to do on a trip to Thailand? Plan your trip to the Jewels of Southeast Asia today!
For more destination inspiration, explore our Discover page: from Myanmar to Singapore.
---
Enjoy your travels!
From the GLP team