South Korea's fascinating culture, tantalizing cuisine, lively nightlife, and vast shopping options make it a must-visit destination. Whether in buzzing urban centers or in stunning natural surrounds, the country truly has plenty to offer travelers looking for something unique. Here are some of the wonderful experiences visitors can expect in The Land of the Morning Calm.
Seoul
Vibrant and colorful, Seoul is a great starting point for a Korean adventure. Visitors will be delighted as soon as they arrive at Incheon International Airport, consistently regarded as one of the most modern and efficient airports in the world. There is a lot to see and do, so a well-planned itinerary is essential.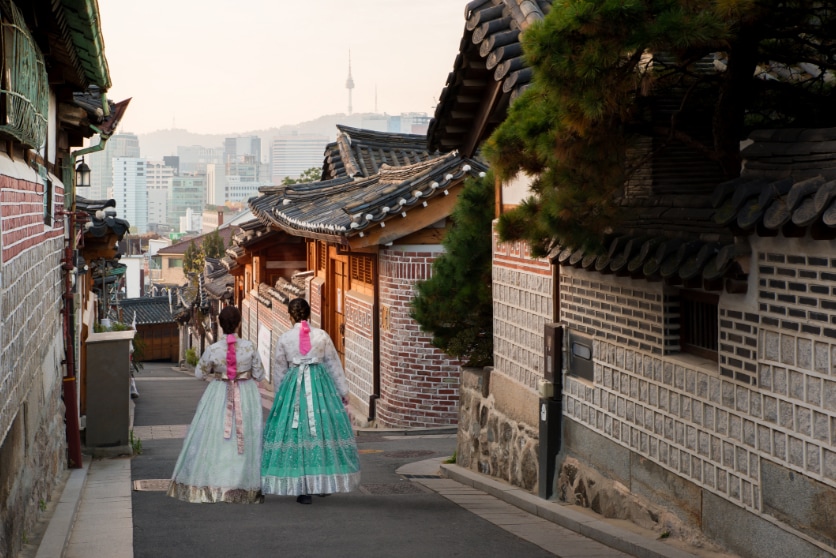 Historical and cultural attractions abound at Gyeongbokgung Palace, an immense royal site built in 1395 during the Joseon Dynasty. Located within the sprawling compound are the National Palace Museum and the National Folk Museum, both of which house huge collections of Korean historical artifacts.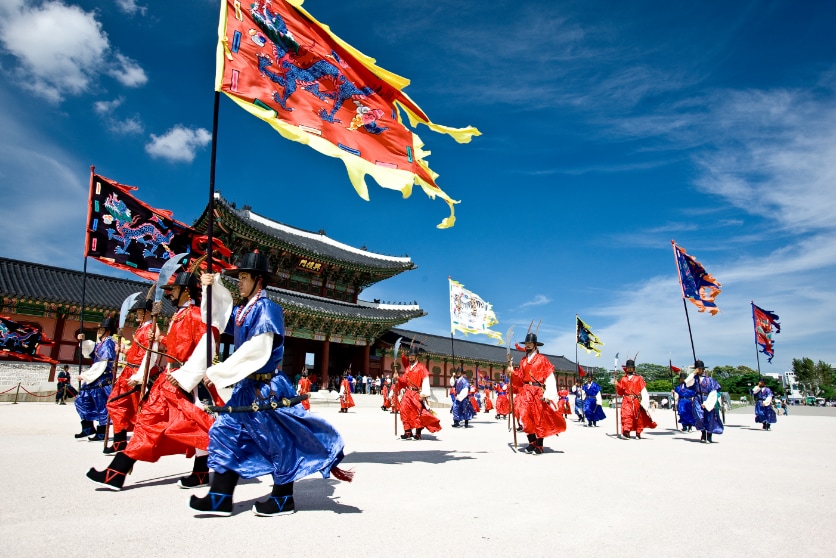 To understand Koreans' daily lives in the past, take a trip to the Namsangol Hanok Village, a UNESCO World Heritage Site. This Joseon Dynasty-era village has preserved most of its original structures. Visitors can peek into the traditional village life of Koreans, from a range of social classes, as they take leisurely walks in this idyllic town.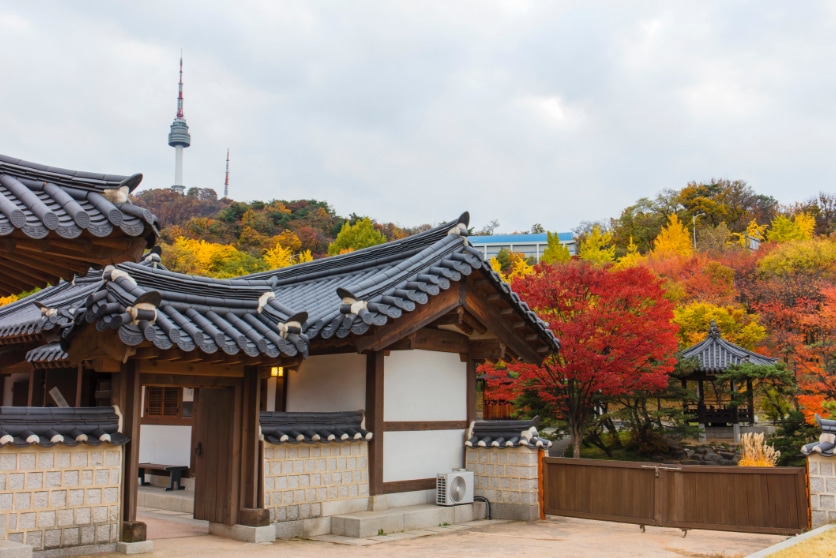 Seoul teems with modern architecture, large animated screens, and some of the world's tallest skyscrapers. One of the many astounding structures is the Dongdaemun Design Plaza, an architectural marvel that functions as an exhibition hall, shopping center, and a stunning backdrop for selfies.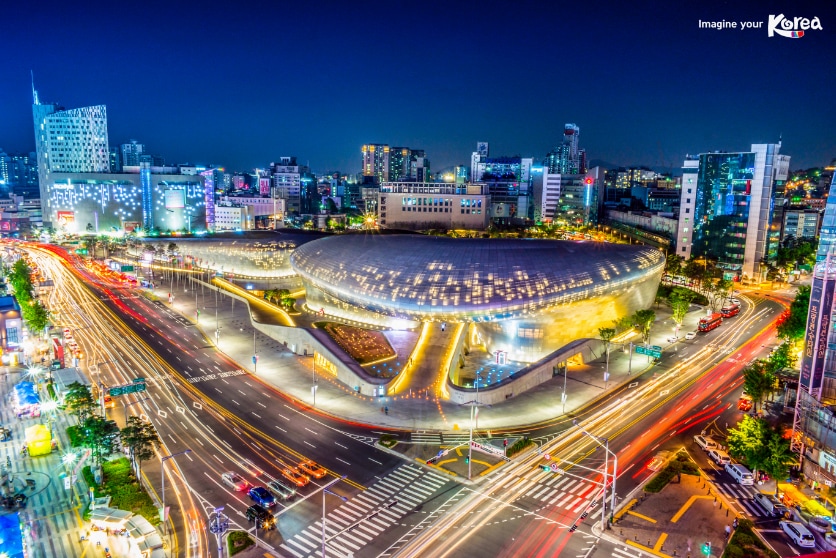 Seoul also has pockets of bustling side streets lined with interesting restaurants, art centers, and clubs. Meanwhile, nightlife buzzes in areas like Itaewon, Hongdae, and Gangnam. For quieter strolls, go to the Leeum Samsung Museum of Art, Cheongwadae Sarangchae historical museum, and T.um Telecom Ubiquitous Museum. These museums showcase a wide array of traditional and contemporary art, artifacts, and technology, and offer glimpses into the past, present, and future of South Korea.
Busan
Besides being a lovely holiday destination with beautiful beach towns, colorful villages, and a thriving market scene, Busan is also an economic, educational, and cultural center. It is a huge city with skyscrapers, mega trading ports, and a large industrial area. Travelling from Seoul to Busan — a 417-kilometer distance — is fast (taking less than three hours) and comfortable on an extremely modern and comfortable bullet train (KTX).
Located on a mountainside, Gamcheon Culture Village is a visual treat. This village comes alive because of the picturesque city views, colorful houses, and quaint shops and cafés with eccentric artwork.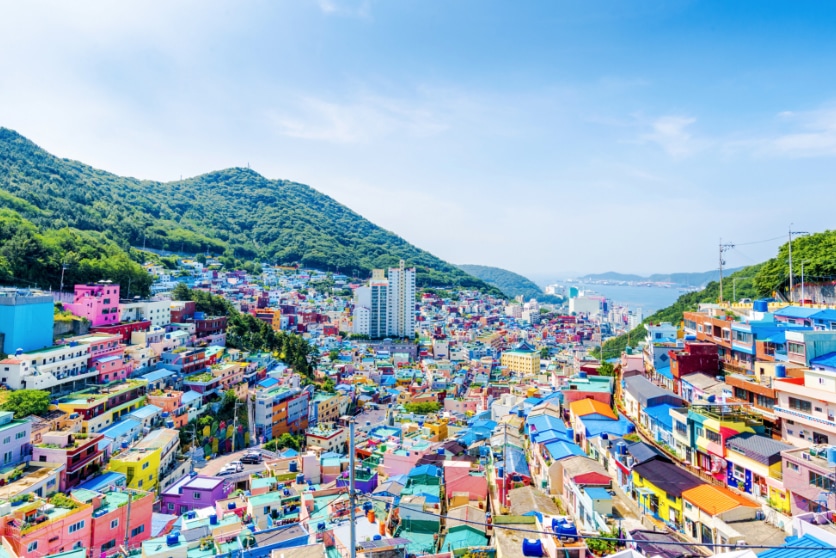 Also worth visiting is the historic Haedong Yonggungsa Temple, a seaside Buddhist complex dedicated to Gwanseum-bosal, the Goddess of Compassion. This mesmeric site is located six kilometers from Haeundae Beach, Busan's most popular. And speaking of beaches, those who prefer something quieter can go to Songjeong Beach instead of the usually packed Haeundae.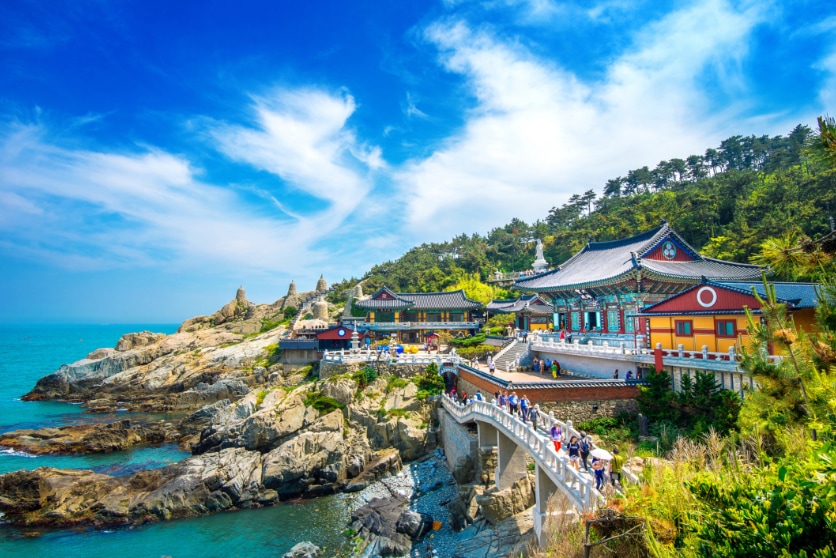 The city also has a flourishing market scene where one is likely to find a delightful assortment of goods. The traditional Gukje International Market is a prime spot to shop for vintage items, locally made products and a variety of snacks, while the Jagalchi Market boasts an array of seafood dishes that you're unlikely to find elsewhere.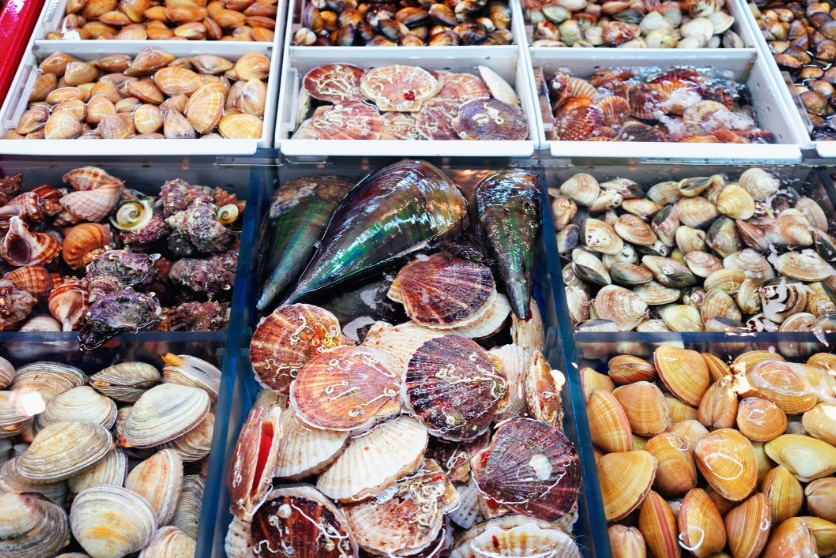 Meanwhile, fans of Korean movies should visit Busan in October when the famed Busan International Film Festival is held.
Hiking is also a hit in Busan. Jangsan Mountain is an easy hike that offers spectacular city views. Those who prefer to stay closer to the sea can try Igidae Park, which affords calming views of the cliffs and ocean. After a tiring day of discovery, there are around 450 spas and natural hot springs to choose from in which to enjoy a healing soak.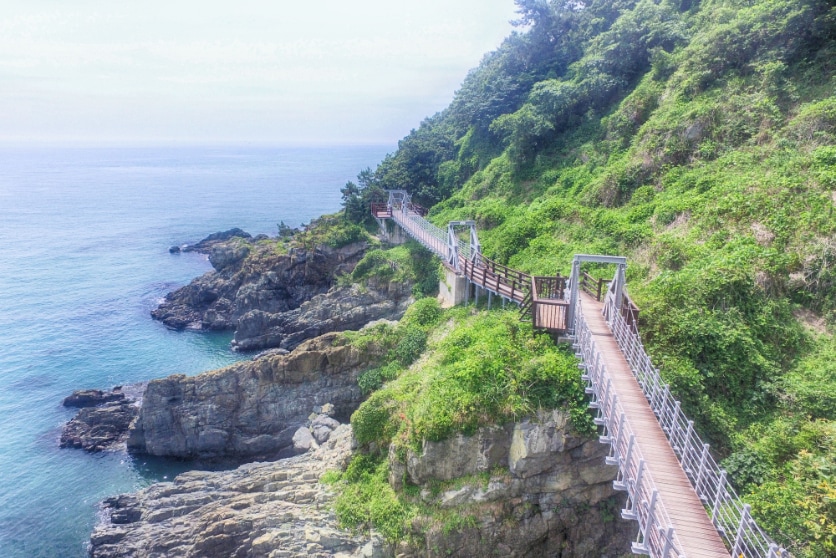 Jeju Island
Experience more natural explorations on Jeju, a breathtakingly beautiful island that's only an hour's flight away from Seoul or Busan. Traveling to this island is convenient as the Jeju International Airport, South Korea's second-largest, has a total of 29 direct flights (13 domestic and 16 international) to connect with major cities in China, Japan, and other Southeast Asian countries.
Visitors to Jeju Island will be wowed by beautiful beaches, cultural landmarks, national parks, and even more exhilarating hikes. The jaw-dropping Hallasan Mountain is South Korea's highest peak and a geological treasure. Hallasan can be explored via several trails. Particularly worth experiencing is the Seongsan Sunrise Peak (Seongsan Ilchulbong), a bowl-shaped crater formed some 5,000 years ago. It offers some of the most gorgeous views of the sunrise, while its base offers dramatic landscapes — also formed by volcanic eruptions — that every visitor must see.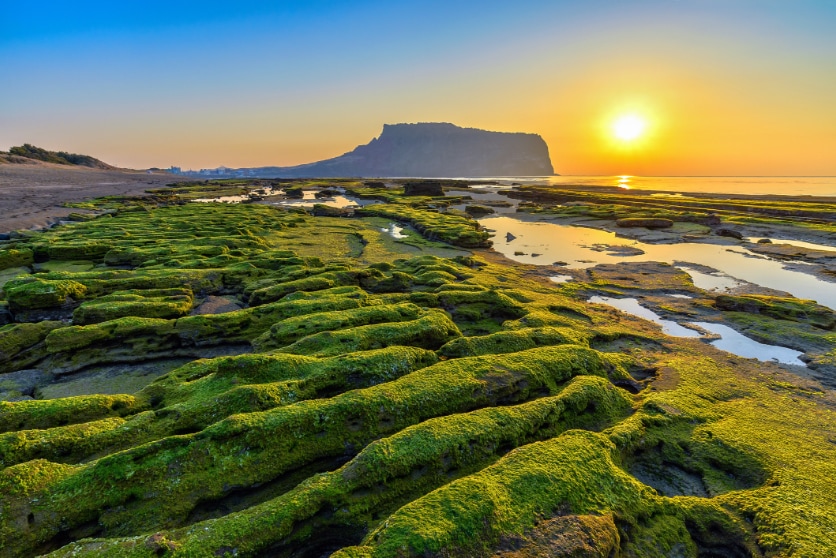 Off the coastal city of Seogwipo, Cheonjiyeon Falls is another popular attraction on Jeju Island. Cheonjiyeon, which roughly translates as "the pond where heaven and earth meet," makes for a pleasant walk, day or night, as the water thunders its way from the rock cliffs and burbles down the stream.
Discover natural wonders in the Manjanggul Cave, one of the largest and most well-preserved lava tubes in the world. Scientists and tourists alike will be captivated by the formations — including stalactites, stalagmites, flowstones, lava tubes, and lava shelves — in this seven-kilometer-long underground world.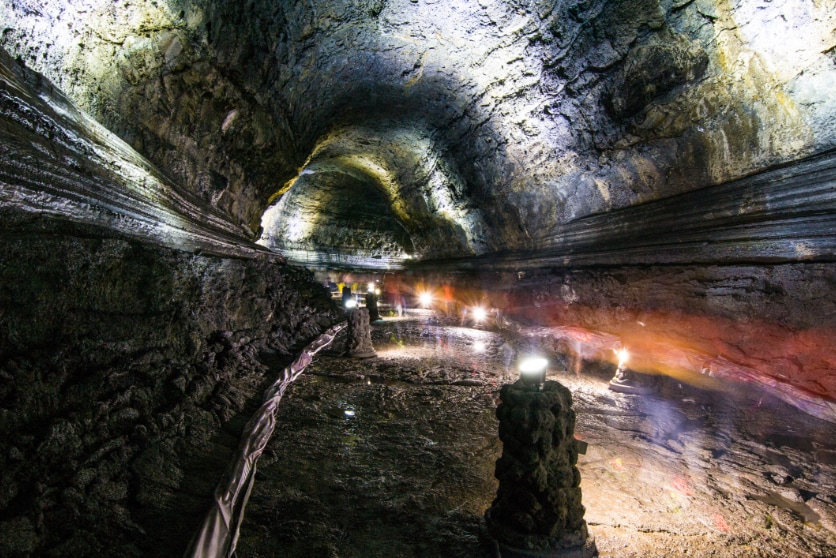 Wondrous landmarks, mesmerizing cultural traditions, and perhaps, a compelling reason to delve into K-pop, K-dramas, and K-brands await visitors to these beautiful places in South Korea. Why not explore them all?
Find more destination inspiration from our Classic Korea and Discover Jeju Island tours.
Discover Classic Korea and Discover Jeju Island
Join us and explore Korea's culture, food, shopping, and more.